Auto Body Repair & Restoration
After we agree to an Auto Body Repair and Restoration Plan, we strip down your car. Old carpeting is removed and your car seats go to be reupholstered. The windshield, all glass, bumpers, gaskets, and special exterior moldings are removed and cataloged for reinstallation. Chrome parts are prepared to be re-chromed, if requested.
Antique and Classic Car Restorations
Recreating collector classics from existing parts or a fresh start, Randall's team of bodywork specialists craft results close to or exceeding your original vehicle.
Randall's will work with you to devise a plan that achieves the goals that you have for your vintage automobile. Before any work begins, we tailor a project plan with you to carefully, clearly define quality objectives, scope, and timetable, fitted to your individual desires and price range.
With the exception of certain interior work and engine rebuilds, all restoration projects are done in-house. We strip the car to bare metal and completely restore the body and furnishings so that your car is as good or better than the day it was made.
Devoted to quality and detail, we have developed an outstanding network of suppliers and vendors whom we contact for top quality mechanical components and rare international and domestic parts.
Randall's is a full service repair and restoration shop for antique and classic automobiles. Specialists with Ferrari, Jaguar, Mercedes, Aston Martin, Rolls Royce, Bentley and Porsche automobiles, our ultimate goal is to provide you with confidence and peace of mind.
Collision Repair
Randall's Auto Body specializes in body repair work and painting of luxury automobiles and racing cars including Ferrari, Porsche, Lamborghini, Maserati and Corvette.
We perform collision repairs ranging from minor dents to significant frame and body damage. Our craftsmen perform restorations, metal straightening, lead finishing, and panel fabrication for collision repairs.
Our expert knowledge of frame design, panel fit, and innumerable subtle details provide an undetectable, fully authentic collision repair.
We provide windshield replacement, custom painting and paint touchup services, paint-less dent repair, and interior repair and replacement.
Our specially trained repair technicians uphold the highest standards. All repairs, paint and workmanship are guaranteed for the life that you own your car.
Rest assured that the security of your vehicles is assured while on our lot.
Randall's Auto Body takes care of all your collision repair needs. Ask about our full service detailing and 24-Hour emergency towing service.
Professional Auto Body Painting
Our paint department includes preparation and priming booths, and a climate controlled spraying and baking booth.
At Randall's Auto Body, Car painting is an absolute art. Our painters are trained to tint and blend all colors to match the original finish. We match the paint to your car's color code to match the exact color of your car.
Your car body is cleaned and brought into the Autek Down-draft Paint Booth to be painted with top-quality Dupont / Spies Hecker paints for a durable shine. The paint is baked on for a permanent, tough-as-nails professional finish.
As an official Spies Hecker paint center, we are stocked with a complete array of DuPont's German-made Spies Hecker solvent-based paints and clear-coats.
Car painting is an absolute art at Randall's
Dents are repaired and sanded smooth to provide a contour that matches the existing panel. We prime the repair area and paint to blend into the surrounding panel area with no noticeable difference from the original paint.
We wet-sand the car, buff with compound and pad, then polish with a super fine polish.
For scratches, only the scratched area itself is repaired. The area is then re-colored, cleared and blended into the adjacent panel area to provide a perfect match to the factory finish.
Randall's Auto Body Rust Repair
Randall's repairs rust damage. When we find damage, we let you know. We tell you if the corrosion can be stopped and repaired or if you would be better off to replace an auto part. You are apprised at every step so that you are in control.
A small dent, scratch or imperfection on your car may lead to tiny rust spots. This rust will grow and eventually lead to deep, ugly rust patches. We patch holes, fill dents, prime, and top/color coat, wet-sand, clear-coat, finish and polish rust away.
Join our Scheduled Maintenance Program to keep an eye out for rust and deal with each problem as early as possible. By exercising preventive measures like cleaning and waxing your car regularly, you should be driving with confidence for years to come.
Rust never sleeps. If your classic car came from a place near the sea or from an area where salt is used on the roads, rust will start from underneath the car and spread. Randall's Auto Body will protect your car.
Contact us and ask about rust repair and Waxoyl Hardwax.
Randall's Auto Parts
Randall's Auto Body orders or finds auto parts as you request and provides you with the highest quality parts available for your automobile.
For newer cars, we get parts shipped directly from the original factory suppliers. We use genuine manufacturer components and parts for all repairs.
While we do not stock a wide library of vintage parts for older cars, our buyers will help you to find almost any vintage and no-longer supplied classic or legacy auto part.
Randall's auto parts experts are fully knowledgeable about old and new classic parts, restoration parts, antique and vintage components. We search to find used parts in good condition and consult with part manufacturers and leading classic car authorities to save you time looking for the old parts that you need.
We search within a select network of car enthusiasts and specialty parts stores to find rare restoration parts for your car's repair and refurbishment. We help you to plan for your successful restoration needs and locate good quality parts to bring your vehicle back to an "as-new" condition.
Your classic car will appreciate in value with age. Trust Randall's Auto Body to provide top-quality custom coachwork and luxury accessories to properly care for your worthwhile investment.
Randall's uses
Autek Zhongda
Heated Downdraft Spray Booths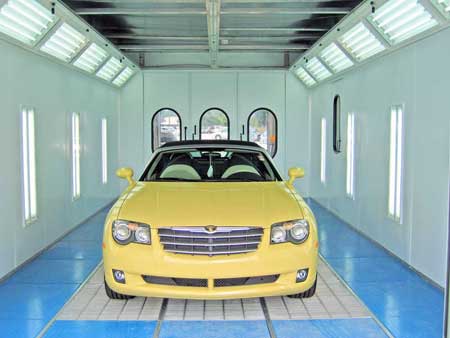 Randall's Autek full down-draft Auto Body Paint Booth moves air from the top ceiling and out from below, providing the most efficient, dustless, painting technique.
Paint is then baked onto your car frame at 150 degrees for a full half-hour to provide an impervious, professional quality paint job.
Vortex Spray-on
Truck Bed Liners
Truck Owners!
Protect your truck bed with
the long-lasting protection of
Vortex Spray-on
Truck Bed Lining.
Randall's Vortex and Granitex
Spray-On Protective Coating
can be applied to virtually any surface that needs protection from moisture, abrasion, impact, rust or corrosion.
Vortex and Granitex give a whole new dimension to worn surfaces. Protect and beautify truck beds, patio decks or interior floors with Vortex and Granitex.
Create a high impact, durable and insulated surface with Vortex.
There are hundreds of possible applications including:

Truck Beds
Fender Wells
Jet Ski Decks
Basement Walls
Carport floors
Boat Hulls, Docks and Decks
Fiberglass Storage Lockers
Freezers or other Appliances
Camper Shells
Horse Trailers
Farm Equipment
High Wear Areas
High Wash Areas
Any high-use surface . . .
New life, durability and beauty are added to any wooden house deck; chipped, concrete porches are renewed when a colorful coat of Randall's industrial strength Vortex and Granitex protective material is applied.
See our Vortex feature page
to learn more.
Page-Top

Randall's protects
your car from rust
and corrosion using
Waxoyl Rust Prevention
Randall's "bulletproofs" your car after painting it. Using the corrosion fighting chemicals of Waxoyl Hardwax, we coat your car, including the cavity and underbody, to provide protection from rust for the life of your vehicle.*

*For harsh-environment driving conditions, Randall's recommends that areas of heavy wear should be touched up after 4-6 years.


Car Models We Service: